Post by wsw on Oct 4, 2020 16:44:56 GMT
Mario Forever: An Unprecedented Expedition
Version 0.4.0

About development of this major version:
Version 0.4.5 is supposed to be the last release of Version 0.4. If no further fatal bugs reported, the next release will be Version 0.5.
Notice:
1. Do not load >=0.4.5 save file in <=0.4.4 game.
2. <=0.4.4 Save files may not be supported in future versions. It's recommend that you play from a empty save file.
Introduction
Mario Forever: An Unprecedented Expedition (abbr MF: AUE or sometimes MFUE) is a fan game of Super Mario and Mario Forever.
Princess Peach was disappeared one day, and Mario thought it was done by Bowser, so he started the expedition to defeat Bowser...
This game was developed on Clickteam Fusion 2.5+ with Rainbow Engine by lyh. The current version (0.4.0) contains first 4 worlds with over 40 levels.
Development of the game starts from 2015, and due to some personal reasons, it was suspended for years, and now I finally came up with this half-finished version. Thank you all who cares about the project and waited for years, now it's time for enjoy!
Control
(The key of controls below
can be set manually
)
Arrows
: Move
Z:
Jump, enter a level in map
X:
Fire, Use items in map
(PAY ATTENTION: These control
CANNOT
be customized)
Escape
: Retry the level(cost 1 life), or quit the mini game
P
: Pause the game
Enter
: Resume the game while paused (which may be different from many other MF fangames)
Gameplay
Here are some elements of the game.
Scoring: This game has a set of scoring different from original MF. The score of each level are independent, and the final game score are related to best score of each level. By the way, in next version there will be an online scoreboard, so try to get higher score
Star coins: Most levels have 1~3 star coins, and some levels require getting adequate star coins to unlock.
Coins: Coin is currency of the game. Besides the classic "100 coins for extra life", coins you get in levels can be accumulated and buy the goodies in shop. Getting more score will also get you more coin bonus.
World map: you can select levels in world map. Besides, there will be extra content like shops, bonus rooms and minigames.
Inventory: Items get in bonus rooms and shops will be stored and you can use them in world map.
Preview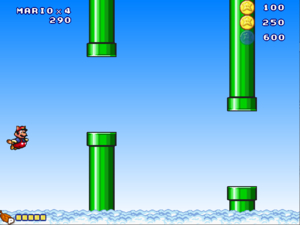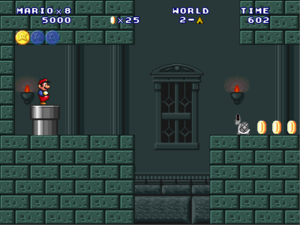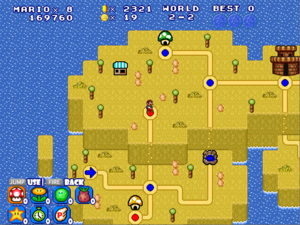 About Save Files
The game will be automatically saved
when enter a level or pass a level.

Notice:
Do not play the game in zipped file or the progress be saved normally! Please unzip it first!
Do not play the game while the save file is opened or the file cannot be loaded normally.
Do not edit the save file, or all the progress will be lost.
If your save file does not work(e.g. all the progress are lost after load a save slot), contact the author.
About cheating
For the best game experience,
you are not supposed to do the following things using Cheat Engine or other cheats
:
Hack the lives,
Hack the coins you have.
The following behaviors are strictly forbidden
, doing these might cause progress loss or other bad influence:
Hack the save file,
Hack the Mario status,
Hack the score,
Hack other things related to score.
Doing these will influence the fairness of the game. Unnatural records uploaded to scoreboard will be deleted.
Credit
Nintendo for Super Mario series
Softendo for the original Mario Forever game
Clickteam for game development tools
lyh for Rainbow Engine
dasasdhba for some of the effects
num1528, zqh for ideas of some minigames
koopa4, Da_ai Mario, 878yfy, num1528, 1168438795, Happy Mario 8 for testing the game
For the full credit including sprites, music and etc., see in the game.
JHR-Campus Staff
WSW233
878yfy
num1528
1168438795
zqh
Happy Mario 8
Download Link
MediaFire:
www.mediafire.com/folder/avrjbao6eqaru/MF:AUE
The zipped file contains
The game file
Info AUE (game manual)
Readme doc, including changelog.
PLEASE UNZIP THE GAME FIRST, or the save may not working.
The game DOES NOT CONTAIN ANY VIRUS if downloaded from the link above. I uploaded the file to VirusTotal and only 7 out of 63 engines reported virus (basically keylogger), which is normal for a CF production ().
If your Windows Defender or other anti-virus software reported viruses, add the game to the allowlist.
Q&A Box
Q: So what's the meaning of the game title?
A: Well, the title is related to the story of the game. "Expedition" refers to the story of traveling to different islands. "Unprecedented" may not be reflected in current version, as the storyboard of first 4 worlds is just simply "traveling to next island". But from World 5 on, this will be different and... well I'd better keep it secret
Q: Why does the development of this game takes this long?
A: Mainly personal reasons. As a matter of fact, things do not always go on well for me, mainly in my personal life. Because of that, the project stopped for a long time. However due to the epidemic this year, many things have been stopped and I have a lot of spare time to work on it. This year does not go well, but for me the extra time is something to comfort me a little bit. And thanks to many technologies and methods discovered by other people working on MF fangame, many former headaches are solved. So, I can release this version now.
Q: What's the relationship between this game and WSW Worlds?
A: I saw someone regard this game as a remake version of WSW Worlds. Well not that precisely... WSW Worlds is one of the games I made and due to some reason, I decided to stop working on them. Many levels of this game are adapted or mixed from levels of WSW Worlds and my other levels and I tried to make them more playable, but this is more of a tribute, I guess. The whole structure of this game is different, and inspired mainly from official Super Mario games like SMB3.
Q: What will be the next major version?
A: Version 0.5. There will be some online features like scoreboard. And possibly, some new levels will be added.
ChangelogVersion 0.4.5
1. Fixed the bug that when entering any green mushroom house after quitting a level by pressing F3, Mario will infinitely die.
2. Fixed the issue that star coin 2 in World 2-5 cannot be get.
3. Fixed the sound effect issue that appears after completing a level that you died after checkpoint.
4. Adjusted the save system.
Version 0.4.4
1. Adjust the condition of Scorer series achievements
2. Fixed the problem of Mario being not able to push ice blocks in some levels.
3. Fixed the layer issue of Boos.
4. Fixed no level complete bonus in 3-C
Version 0.4.3 Update 1
1. Fixed the sound and display problem when passing the level with 0 time bonus.
2. Fixed the Boom Booms of World 4 disappearing sometimes.
3. Fixed the problem that chests of Yellow Bonus Room sometimes opened with no items.
4. Fixed the icon problem of World 4 map.
5. Fixed the disappearance of the star coins get when playing some levels.
* For Changelog for versions lower than 0.4.3, see README.See Also...
Game page in my personal website
MF wiki page